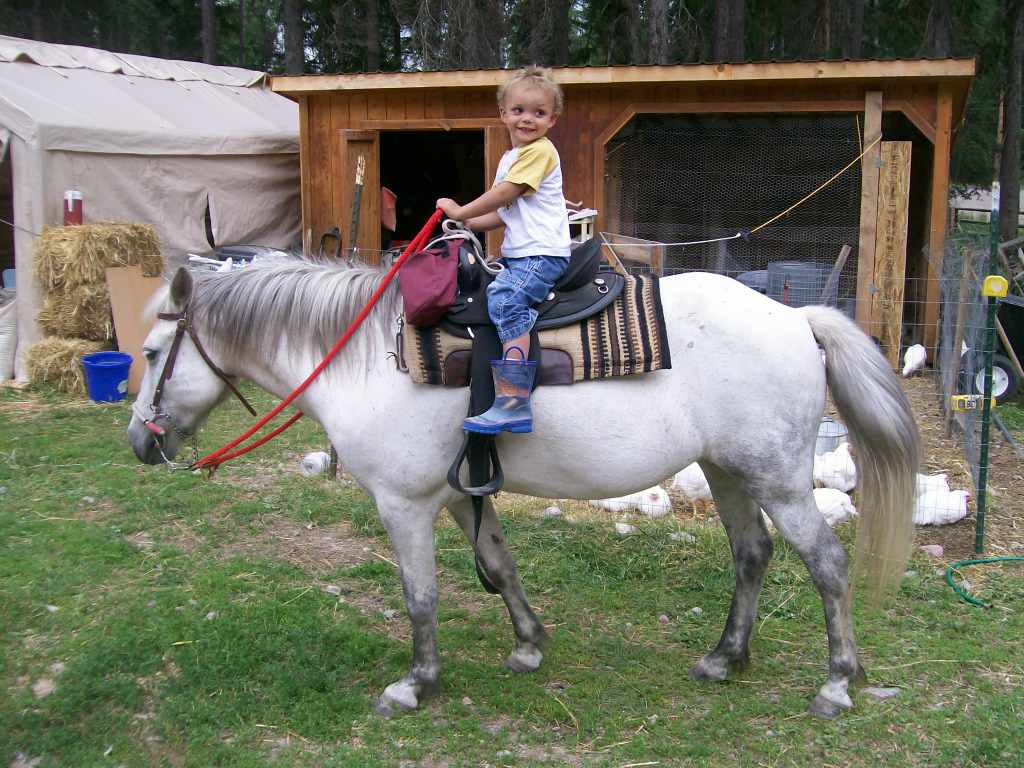 This is our adorable Paso Fino mare Rio, who we saved from the canner at the auction a year ago. We got her knowing nothing about her and look at the gem we have!! She loves kids as you can see, their noise and antics don't bother her a bit. She is the favorite mount of my 9yr old Jimmy and also Levi (4) as you can see! We adore her and her wonderful, smooth gaits.
Rudy is our oh so loyal border collie. He is one of the best dogs we've ever owned. He'd do anything for you if he understood what it was you wanted. He is the bunnies guardian. More than once he has let us know that stray dogs were trying to get into the bunnies and we were able to get rid of them before they got in any cages. He is a great helper with the cows, and he loves to guide us on our trail rides.
This is Levi and his best friend Manfred the Saint!

This is our lovely Belgian/Quarter mare Devine. And she is definitely that!! This mare will pretty much do anything from packing game out of the hills to running around the barrels if you want her to. She's a super kids or adult horse. We were thrilled to get her 2 yr old filly this summer to work with. I'll be putting a picture of Gracie on too for you to get to know. She came to us with no handling whatsoever, she loves attention now and is getting used to many things which will soon include riding!!

This is our gorgeous Gracie. She is Devines foal. She is 3 yrs old and we were finally able to talk her owner out of her after a couple yrs. She was an untouched wild thing when we got her, but after some round pen time she now loves trailers, loves brushing, stands for hoof trimming, fly spray and is learning about saddling now! Isn't she a pretty girl!!!