We do have some polish available for sale, and available for transport to convention...please check back for pictures and email for availability.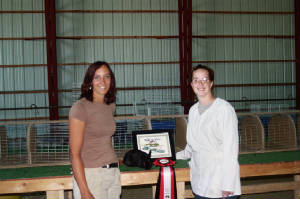 ~ Swan Valley's Bogo ~
Maggie's Minnies Zorro X Aristocrat's Adobe Rose
~Registered~
7 G.C. legs
This is an amazing little black sr. buck out of Zorro and Aristocrat's Adobe Rose. This was his second Best in Show this summer! He is my first BIS rabbit with my name on him!
We are excited to see what his offspring will be like. His first litter is expected soon. He has 7 G.C legs just from this summer 2 of which are BIS legs! After much debate I'm going to offer BoGo for sale. I have some very nice offspring from him so he can go bless someone elses rabbitry with his excellent genetics. He is out of Chocolate, black and blue lines.
$175
Swan Valley's Jamocha
Hughes' Alexander(bkn blk) X Rustic's Roca (choc.)
4 G.C. legs
Very handsome buck out of Drew, Rustic, & Wiley lines. This guy has a super topline, lots of depth and width. He's a tad long in ear, but they do balance with his size. 4 G.C. wins (2 BOB,1 BOV,1 BOSV)
Proven. $100
April's Willamina
April's Tzar(black) X April's Ugly Betty(broken black)
Registered*G.C # B1534
Sweet little sr. doe out of mostly April's lines. She just turned 4, but still produces beautiful babies and is a wonderful foster mommy! I've kept lots of nice babies out of her, so it's time for her to move on....
$50
Swan Valley's Zephyr
Maggie's Minnies Zorro(bkn black) X Ashke's Krystal(black)
Registered ~ G.C. # C1976 ~ 3 legs
Amazing little doe out of our 13 leg buck Zorro and our precious Krystal...This is a hard one to let go of, but we have her full sister and the sire and dam still...so we are offering her for sale...she does have a small dewlap, but produces outstanding babies! Carries blue, and chocolate also. Just turned 3 this summer...still producing excellent litters for us.
$175
Swan Valley's Zane
Swan Valley's BoGo (black) X April's Willamina(choc.)
Adorable black just turned sr. buck. This guy is alot in a tiny package! Under 2 lbs! Lovely fur and type...just lacking a little in the loin...still debating whether I should really sell him or not!
$100
Swan Valley's Marcellus
Swan Valley's BoGo(G.C) X Swan Valley's Zephyr(G.C)
3 G.C. legs
Mars is a very handsome broken black, 1.5 yr old buck. He has 3 G.C. legs( 2 BOSV, 1 BOSB) This guy has a wonderful head, ear, and eye. Excellent depth, just lacking a little bit in his lower hindquarter. Very nice. Herd sire, show....
$150