~ Bunny Hutch's Black Eyed Susan ~
Bunny Hutch's Samson(blue otter) X Bunny Hutch's Pansy(broken black)
3 jr legs (all at her first show!!)
Susan is a gorgeous broken black doe. She's got an amazing body and a really promising head coming on. I'm excited to show her this fall and see how she does! Thanks Tracy for another super bunny!Update: Susan is taking a break from showing to try her hand (paw)...at having babies! She brought home 2 sr legs from the IERBA Idado show last weekend...so she's bred to Louie for some Feb. kits!
~ Bozzie's Venus ~
Bunny Hutch's Jupiter(blue otter) X Bunny Hutch's Ashtyn(blue otter)
Venus is a gorgeous little gal with a ton of promise and I can't wait to show her a bit and see how she does. This little powerhouse is amazing..but she gets so worried at the show and hugs the table...If she showed off the way she does at home she'd be racking up the legs...but that's ok, she's going to raise some kits out of Louie and calm down a little and we'll try her on the table again. Keep your eye out for her kits out of Louie!
~Swan Valley's Daizy~
Blue Storm's Louis X Hughes Blossum
1 BOSB leg
Daizy is a beautiful broken color...mabe a broken smoke pearl?? I haven't decided yet! She is a beautiful big boned gal...she finished at just a couple oz over 4 lbs..so we'll be using her as a brood doe. Awesome body and huge head on this gal...we're looking forward to what she produces for us crossed back to Louie or possibly Spartacus.
~Vaughn's Rosebud~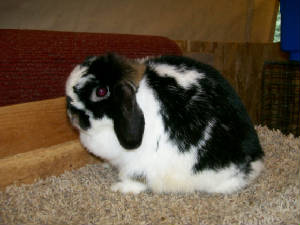 Rosie is a beautiful broken black otter doe. She is missing a couple toes, so she can't be shown, but her offspring have been amazing on the show tables! She is a proven producer of babies with superb heads and excellent type! We are excited to see what her next batch of kits out of Louie will be like!